Wessex Mole Control – Country People
A family business, we specialise in providing a traditional molecatching service.
For generations, our family has worked on the land, in both the agricultural and horticultural worlds. From farming in Cheshire, Staffordshire and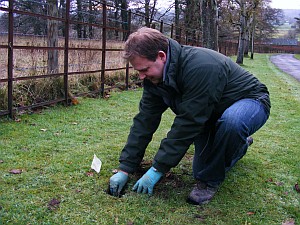 Cornwall, to landscaping and gardening in Hampshire and Wiltshire, we are steeped in the traditions and ways of country life, and appreciate both the benefits of, and problems faced, by those customers living in the sticks.
It was whilst dealing with mole problems of our own that we identified a niche in the pest control market for an effective, low cost approach to mole control.
We discovered that many pest control companies required
up front payment before starting work on the mole problem,  regardless of how many moles may – or may not – be caught.
 In addition, there was no guarantee that their techniques had actually been effective in addressing the problem. And, since the use of Strychnine was banned, other modern methods of control have not proved successful.
So, we decided to do the job ourselves, by returning to the traditional approach used by mole catchers for hundreds of years.
From small beginnings, demand for our service has grown, as our customers find, as we did, that the cost of modern, commercial techniques and services are prohibitively expensive, with disappointing results.
With our No Mole – No Fee approach, our customers are reassured that they will only pay for results.
If we don't catch your mole, you don't pay!